How-to: Travel Alone with an Infant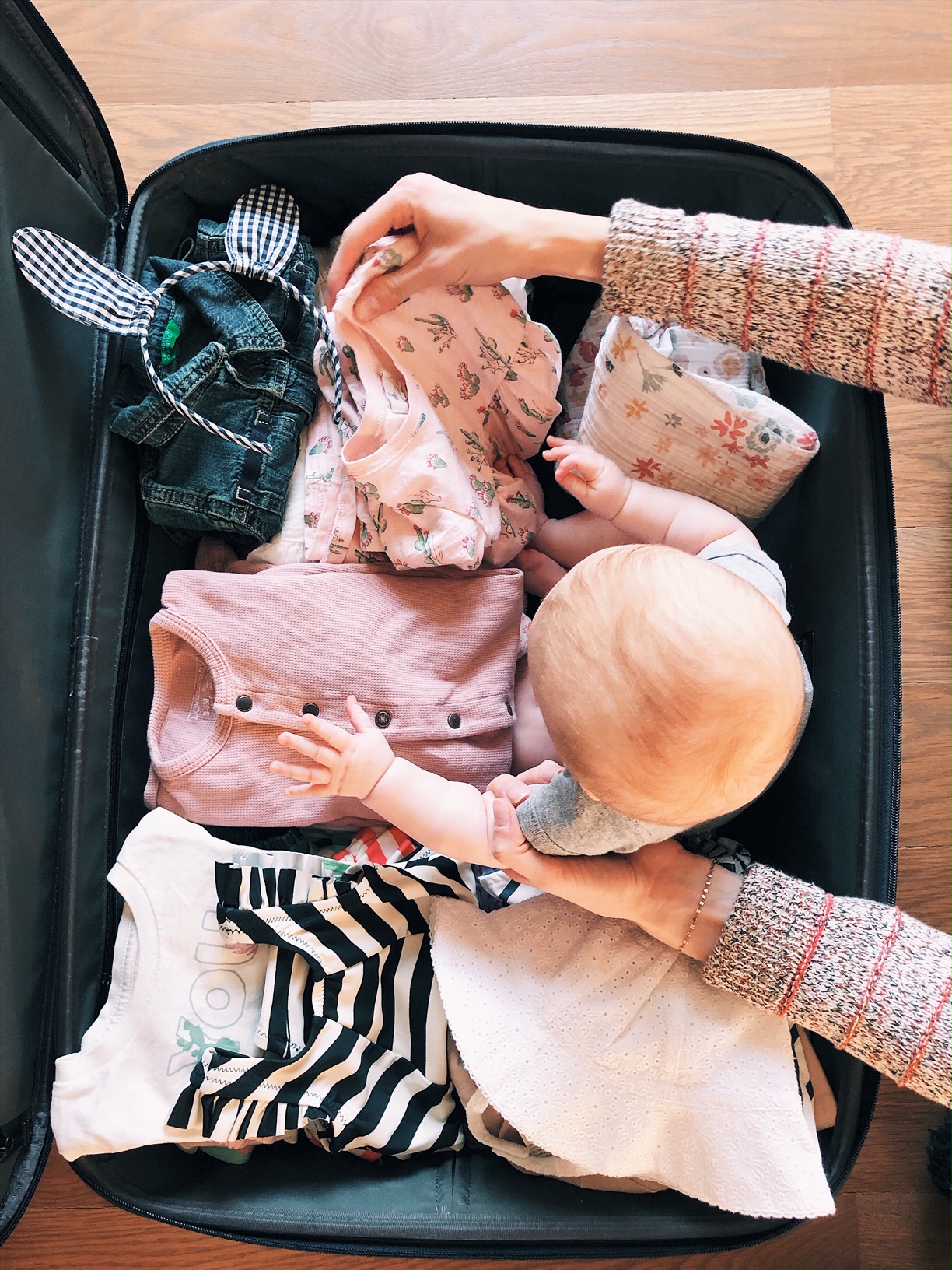 Stress-free travel w an infant
Traveling alone with your child is a daunting endeavor but a little prep and organization goes a long way. There are always unknowns you can't anticipate (like when your baby poops immediately after you changed her diaper on the airplane - twice) but the key is to breathe deep when things don't go your way. You may have a calm baby or a colicky baby, but have confidence. Let go of each tiny set back, don't worry about what other people think, have patience and, remember, you can freakin' handle this. Here are a few little things I learned the first time I did it: *note: perspective from a nursing mother
Get a baby carrier - get a used one, borrow one from a friend, whatever you need to do. Being hands-free is the only possible way you can fold down your stroller and stick your carseat in a plane-check bag all by yourself with a baby in tow. Trust me, it's essential. I got this Baby Bjorn but here is one I also like.
Pack (at least) two days in advance - don't keep yourself up until 1am adding item by item to the notepad in your iPhone so you don't forget them the morning you're taking off. Give yourself an extra night to do that. Pack two days prior to leaving and start a packing list four days prior. This will give you ample time to remember what you forgot to pack, make a last minute trip to Target and organize your packing. Organization is key in avoiding extra stress and fuzzy-brain syndrome.
Get a good night sleep and lay out your travel outfit!
Leave time in the morning to prep for take off: a bath, pumping session (if needed), playtime, reviewing your packing list and organizing your diaper bag. With the diaper bag-packing fresh in your brain, you won't be scrambling for things along your travels. I also suggest booking a mid-morning flight (timed with your baby's morning nap) so you have a couple hours in the morning to regroup.
Double up on socks for baby (in case one falls off or the plane is chilly)
Wear something that zips off and remove it before you board the plane - tie your zip-up to your waist. All of the lifting, moving and anticipation might make you break a sweat. With your jacket tied around your waste, it's easy to remove even once you're seated. Keep a pacifier in one pocket and keep your boarding pass plus whatever necessity you need (I'm addicted to lip balm) in the other pocket. Tip: throw a granola bar in your pocket for easy access to something to snack on if you're feeling exhausted or light-headed.
Give yourself a pep talk before you head to the airport. This might sound silly but something like this: Things might be difficult today. There might be frustrating situations, you might start to freak out but everything will be okay. You can totally do this. *deep breath*
Request an aisle seat at check-in or with a gate agent (and ask if there are any extra seats; if there are, they will give you one for your car seat FOR FREE)
Order a double espresso instead of a coffee (unless you want to spill all over your white t-shirt like I did, ugh)
Wash your hands often (and wipe your baby's hands) - germs, germs, germs
Let people help you - traveling alone with an infant helps you remember there are good people in the world
Throw your nursing scarf around your neck before you board the plane - not only was I prepared for that takeoff nursing sesh but I ended up letting it down around my shoulders to keep warm on the flight
Ask if you can board the plane early (if they don't announce early boarding for families with children) - Board, put your stuff down, hit the bathroom (even with baby in your carrier) and then sit down to get organized. If you don't pee right away, you might miss your chance to do it with a clear aisle and before baby (hopefully) falls asleep.
Get up at least once during the flight - don't trap the poor, patient stranger seated at the window seat who's putting up with your shenanigans. Do them a favor and let them visit the restroom without having to ask.
Feed your baby upon take off and descent. Not only does swallowing help her with changes in elevation, but she's more likely to fall asleep from the get-go (this is key).
Have confidence. A couple people, including my mother, told me I was crazy to travel alone. That I was way in over my head and I couldn't manage without help. She's going to catch the flu and you can lose a baby "just like that," someone who shall remain unnamed told me. Everyone is full of opinions but you are a mother now and you should feel confident and free of shame and guilt to make decisions for you and your baby. Each time anxiety welled up in my chest as I anticipated the chaos of security or the daunting task of folding down my stroller and zipping it into the travel case while carrying my baby on my chest, I gave myself a mini pep talk: You are a great mother. You are capable and you can do this. You should be proud of yourself. And you should be. You are a great mother. And you got this.
Packing List:
Tip: Think minimalistic. Only bring what you need because even pulling a heavy bag is a nightmare. And leave room in your suitcase for any extra things you might lug home.
Infant (0-4 months)

Breast pump and parts (seal together in a large ziplock bag and bring a sanitizing microwave bag for easy cleaning)

Baby bottles ((seal all togehter in a large ziplock bag and pack a small sponge and a few pumps baby-safe dish soap (in a smaller ziplock) if you're a little crazy about this sort of thing))

Outfits for the number of days you're there (but DON'T overpack), include a couple warm over-layers if it might be cold

Pajamas for 3/4s of your nights (plan to reuse two pairs, it will be OK)

Extra blanket for warmth and a thin blanket to lay down in the crib or pack-n-play baby will be sleeping in

2-3 swaddles

Travel size baby-safe laundry detergent (if you'll have access to a laundy machine)

Stroller rain cover (if needed)

Pack-n-play (if needed) - check this and bubble wrap in advance if you're worried about damage. Tip: I asked the friend I was visiting to borrow her friend's pack-n-play so I didn't have to worry about bringing this.

Your clothes and toiletries (obviously. Again, don't overpack)
Your diaper bag:
Thin blanket

Pacifiers

A couple teethers and ONE baby toy (something lightweight)

Extra pair of socks

Extra light-weight outfit (in case of poop explosions), including under-layer

Phone charger (in case of emergency)

A couple snacks for you and for baby (if old enough to eat snacks)
What I wish I didn't bring
Extra baby outfit alternatives. When you're traveling and things are crazy, fashion goes to the wayside. Pack basics and only the number of outfits they need, with one backup.

A book for myself - what was I even thinking?
What I wished I brought:
I only packed two swaddles and Renley spit-up/pooped on both of them. It was a little nightmarish. Pack 3.

A headphone converter for new iPhones (in-flight TVs have old aux jack so bring the converter!)
Don't forget, breath and have confidence!
Am I missing something? Contact me and let me know so I can add on!